Exhibition Simon Leahy-Clark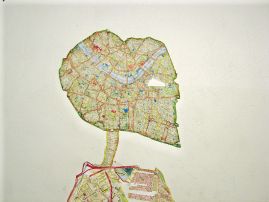 Sat, 11 Apr. 2009 - Sat, 16 Mar.
Open: 1:00pm-7:00pm
(Close: Thu.,Sun. and National Holidays)
support:SHOWKUKAN Inc.

Opening reception: Sat, 11 Apr., 18:00-(500Yen with one drink)
Simon Leahy-Clark
Sept 1996 - June 1999
Middlesex University
BA (Hons) Fine Art, Art History, Art Practice in the Community
Sept 1993 - June 1994
Gwent College of H.E.
Art Foundation
live in Londion
EXHIBTIONS
2009
'Did the Devil Make the World When God was Sleeping', Solo show,CAS Osaka
80 Artists/40 Drawings, The Drawing Gallery, Walford, Shropshire

2008/2009
Jerwood Drawing Prize, Jerwood Space, London, and touring

2008
Shelter charity auction, London
RCA Secret, Royal College of Art
Re:Drawing, Oriel Davies Open, Newtown, Wales (Highly commended)
Spring Open, JGallery, Moulton, Northampton

2007
Creekside Open x2, (Selected by Matthew Collins and Emma Biggs), APT Gallery London
Celeste Painting Prize (Shortlisted artist)
RCA Secret, Royal College of Art

2006
Solo Show, Moto Azubu Gallery, Toyama, Japan
RCA Secret, Royal College of Art

2005
'From the Lagado Academy' - Solo show, CAS Gallery, Osaka.
(Supported by the British Council)
13th Yoshihara Jiro Memorial Exhibition, Osaka Contemporary Arts Centre
(Winner Gutai Group Prize)
'Another Movement' - Deux Egg Gallery, Kanazawa (Solo show within arts festival)
'Different Alphabets' - Bury Art Gallery, Lancs.
(With Jasper Johns, Ed Ruscha, Ian Hamilton-Finlay, John Cage,
Hamish Fulton, Simon Patterson)

2004
'Aftershock' - 1A Space, Hong Kong.
'Faith' - CAS, Osaka, and Transition Gallery, London
'Attack on Precinct Deborah' - Deborah House Studios, London

2003
Space Open Studios, London

2002
Oriel Mostyn Open 12, Llandudno
John Hegely vs Band of Nod, Waterrats, London
RCA Secret, Royal College of Art, London
London Open House, The Fire Station, Gillender St, London .
Core, MOT Gallery, London

2001
'Paperworks', Bury Art Gallery, Lancs
RCA Secret, Royal College of Art The Band of Nod, Performance,
Whitechapel Art Gallery Centenery,
'Everything must go!' Cable St. Gallery, London

2000
'Colour Feature' Oriel Myrddin, Camarthen, Wales
'YIP YAP YIP YAP', Cable St. Gallery, London

1999
National Eisteddfod Arts Festival of Wales, Anglesey
'Image Defining Word Defining Image', London Literary Festival
'Jim-Jams', OrielSimonClarkGallery, London

1998
National Eisteddfod Art Festival of Wales, Pencoed
'Blue', Clapham Art Gallery

COLLECTIONS
Bury Art Gallery, Lancs.
Awards
Gutai Group Prize.
Publications
Jerwood Drawing Prize Catalogue
Western Mail, Sept 13, 'Welsh artist on drawing prize list'
Oriel Davies Re:Drawing Catalogue
WelshArtNow magazine, ed1
Seian University Lecture Programme Review
Celeste Painting Prize Catalogue
AN Magazine, March 2005, 'Artist's Story: The Bubblegum Diaries'
Art Yard Magazine, Japan, 2005
Another Movement Catalogue, 2005
AN Magazine, May 2002, 'Something in the Ether'
Bury Times, Sep 7, 2001, 'Paper exhibition marks gallery's centenary'
London Live FM, 2000, 'Yip Yap Yip Yap' review.
HTV Wales, August 1999. Eisteddfod focus.