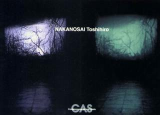 For the exhibition -Trip in a trip -

AMANO Kazuo, associate professor, Kyoto University of Art and Design

NAKANOSAI Toshihiro may be an artist little known in Japan. This is due to the fact that he has been working mainly in Germany for the past few years. He has produced art works in towns including Berlin,Pluschow and Worpswede. He came back to Japan last year. Nakanosai's work is still but dramatic, creating a peculiar experience which directly challenges our perception. This show is the first opportunity for his work to be viewed in the Kansai Area. I expect it to be fully appreciated.

Nakanosai created various performance projects while he was a student at Tokyo National University of Fine Arts and Music. Later he moved to London for the postgraduate program at Goldsmiths College, University of London. At Goldsmiths, he consistently focused on measuring the infinitely-circulating phenomena of the natural world with his own physical body.

In recent years, Nakanosai has moved on to quest for human perception itself, through his experimental installations in which he has introduced phosphorescent pigment as a key medium.

At a recent show at Akiyama Gallery in Tokyo (June 2001), he presented an installation using two 16mm film projectors and two speakers. Two pictures of a woman's profile in wilderness are alternately reflected on the walls, one on the right, the other on the left. These two pictures look almost identical. However, we soon notice subtle differences in the expressions on the women's faces and in the atmosphere of the two landscapes. While our eyes are glued on these findings, we hear a roaring sound of the winds from the speaker placed behind us. The women suddenly start screaming, violently breaking the harmony of the scenes. In this work, Nakanosai introduces sound for the first time to clarify the relationships between visual and auditory senses. Being placed between two pictures, two sounds, and vision and sound, we struggle to awake our senses. The next moment, the films suddenly come to an end, and we encounter an enigmatic shadowy image.

At first, it seems to be an afterimage left in our eyes. However, the image will not disappear. A closer look at the screen reveals that the image is not merely an illusion,which comes from our inner perception, but it is a real physical event. This dimly-lit image was created by phosphorescent pigment on the screen, and now it is juxtaposed with the afterimage in our eyes, creating a strange landscape that we have never seen before.

In CAS, Nakanosai will present his new work titled 'Trip in a trip', which takes a woman sleeping in a train as the subject. The one who will 'trip' to the world of dream and wonder, surrounded by the repetitious movements and the sound of the train like an auditory hallucination, could be the woman in the train or the audience looking at this puzzling picture.

After finding out how this trick works, you will still be in a state of wonder induced by this installation. In Nakanosai's phosphorescent work, an ordinary scene from everyday life is instantly frozen as a shadow, and magically turned into a memory of an intangible world.

The work is simple in its method. It uses no high technology nor exaggerated stage effects. However, when our perception and recognition are translated into materiality through phosphorescent phenomenon, the strangeness of this transformation urges us to a different level of awareness, both of ourselves and of the world.